New ventilator enables closer to home treatment



Gafael Llaw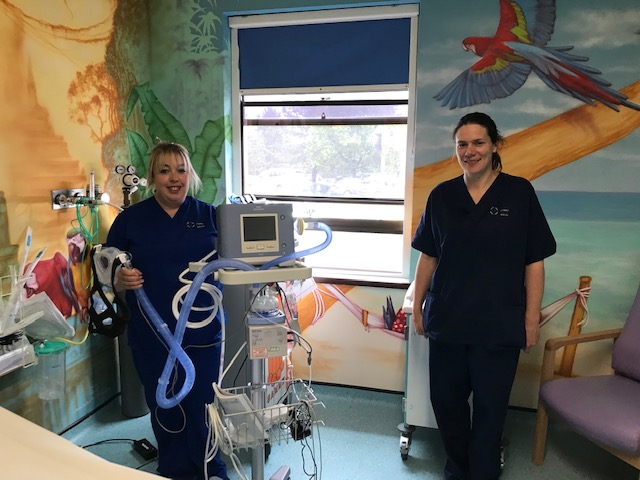 Thanks to the continued generosity and support of Gafael Llaw a new trilogy machine (ventilator) worth over £6000 is now up and running at Ward Dewi, Ysbyty Gwynedd.
Gafael Llaw were keen to offer their support more than ever to the ward during the COVID-19 pandemic. The machine will be of paramount importance to the ward, helping babies and children who are admitted with respiratory difficulties.
Jo Douglas, Paediatric and Neonatal Service Manager for the West of BCUHB, said: "Once again we are grateful and humbled by the support that Gafael Llaw have shown to the Paediatric Unit in Ysbyty Gwynedd.
"At the start of the COVID- 19 pandemic members of Gafael Llaw asked us what would help us care for children during this time and respiratory support is the fundamental need for patients presenting with the virus. We are able to provide this level of support, however due to the current situation it was clear that we would require more CPAP and BIPAP machines to deliver this level of care.
"The Trilogy in now on the unit and training via Skype is being rolled out to all staff. We are grateful that this will enable children to stay in Ysbyty Gwynedd nearer to home during this very challenging time, especially as there is restricted visiting currently.
"All the staff in the Children's Department are so very grateful for the ongoing support of Gafael Llaw."
Iwan Trefor Jones, Gafael Llaw Chairman added: "I'm delighted that we as a charity have been able to provide this important machine at such a critical and crucial time. This will change the service that is delivered on the ward, minimises the stress on staff and will be valued by the children and families who will not have to travel further afield to receive treatment.
"The new machine will enable children to be cared for locally. We heard stories about families who in the past have had to be transferred to other centres much further away to receive treatment, which places an enormous pressure on the family and community in what is an already stressful time. Our goal as a charity has always been to improve local services and resources, and I'm so pleased that this machine will make a real difference."